https://fts.ussh.vnu.edu.vn/en/news/news/men-s-football-team-of-the-faculty-of-tourism-studies-university-of-social-sciences-and-humanities-569.html
Being held every two years, USSH Football Champions League (UCL) is the annual festival of male staffs and students organized by the Youth Union, the Student Union of Students with the aim of improving health, encouraging sports spirit as well as creating exchanges between students and lecturers in faculty in particular and the whole school in general. This year's tournament with the participation of 18 teams from faculties and fields of the University of Social Sciences and Humanities promises to be extremely exciting and attractive.
Coming to UCL 2016, the men's soccer team of the Faculty of Tourism offers a team of 15 players of good quality and equal strength, including Mr. To Quang Long and 14 students from K57. K61 of the Faculty. With high ambition to win the UCL title 2016, for of the color of the jersey of the Faculty, the men's soccer team of the Faculty of Tourism has carefully prepared and rigorous trained for their physical strength, technique, and strategy. Before the competition, the team held many football exchanges with the alumni team of the Faculty and gained much experience. The team has played with their full effort and performed so well so that they reached the quarterfinals this season which brought joy to the fans as well as brought them the opportunity to go deep into the next round.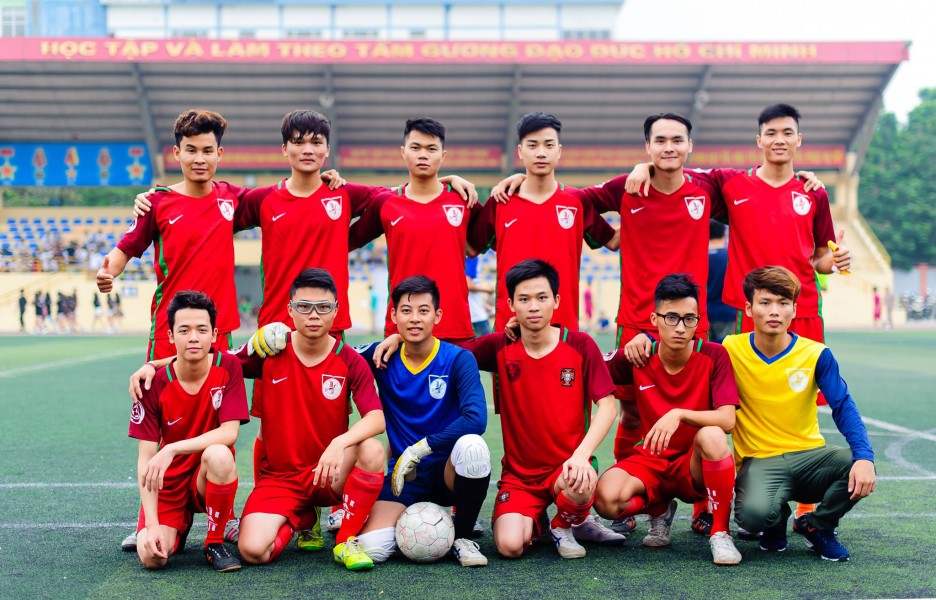 Not only the fans, teachers, alumni, faculty members, but also the trainers who are Mr. Pham Hong Long - Team Advisor, Mr. Nguyen Quang Vinh - Head of Football Team, Mr. Tuan Xe Làng - Coach and Sponsors: FLEC Language and Training Training Center, TASS Travel Company , Hanoi Tourism Company, individuals such as Phung Huu Ngoc Anh, Nhu Ngan, Vu Minh Tho, Tung Ngo, Nguyen Nhu Giang, Pham Thuy Nga are always the best supporters for the team. Special thanks to all the teachers, sponsors, alumni and students of the Faculty of Travel Studies who always love and support the team in this award and after!
Recognizing the love and expectation from fans and sponsors, Tourism players are now having more motivation and confidence to enter the tournament with the ultimate determination to make the dream of becoming the champion come true.
Stay tuned, follow and cheer for the beautiful goals and impressive performances of the Tourism guys in UCL 2016!