https://fts.ussh.vnu.edu.vn/en/news/news/associate-professor-dinh-trung-kien-my-great-teacher-549.html
I have two greatest teachers in my life. Now both of them left me to the heaven ... The first teacher is My Father, who took form the love of adventure, love exploring the beautiful land. My father was a soldier - border guard: Viet Nam People's Armed Forces. His primary job was to teach military officers. The second teacher is associate professor, Dr. Dinh Trung Kien - Dean of the Faculty of Tourism Studies - University of Social Sciences and Humanities - VNU. He is person who named the dream of traveling to those remote parts of me - the name "Travel." And more than that, he pushed my travel passion right from my first day we met on the day "welcoming students into the school". From the first sight, he made me claim that: "I have chosen the right school, the right career, the right job and the right teacher".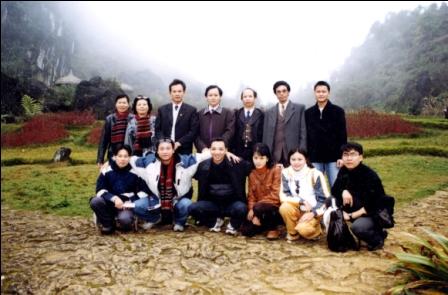 Ass Prof. Dr Dinh Trung Kien and teachers of Faculty of Tourism Studies in a field trip to Sapa in 2003.
His image made me immediately see Dad in it. He also had nimble movements, a firm tone of voice, military style and intense look but filled with love. He scowled at me when I made mistakes, also the squint of laughter and gentleness when looking at his students ... Each his sentence, word by word is the same as My Father. Do the soldiers also like that?
My father and he had many similarities: a soldier, a teacher, a hot-tempered but full of love with poetry, not tolerant, encouraging and supporting for each our step, each word and gesture ... Perhaps, it is very rare person lucky like me: who has given two dad like this? Both of them lifted each step of my path from childhood until mature enough, then they stopped for resting - back to the land.
Both men are longing to live until the last moment. They also expressed effort to save the image of a powerful, optimistic person. They both had to pass away while carrying their fighting and dedication. They also left in my heart two large gaps when lying down. They left together, in the hearts of many children - students like me a permanent memory never be erased.
I regret the only thing about him - the Associate Professor Dinh Trung Kien: That I had never dared to come near to tell him how much I admired him, how he liked my Dad, that he was a facilitator for all of my thoughts and actions about tourism for me, that I must say thank him very much! I have never got that chance, because I'm too shy.
In the practical program in the third year of college (2006), we - K48 went with Mr. Dinh Trung Kien and teachers in the Faculty of Tourism Studies to the Central. I cherished the passion of exploring the Nguyen Tomb through his previous lecture. I read Ms Bui Thi Hai Yen's tour guide's book, repaint the diagram of the tombs as read in her description of each page. In which I like the tomb of Minh Mang King most.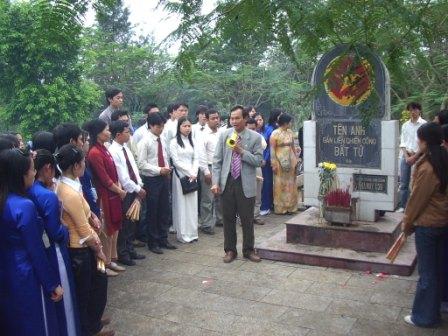 Ass Prof Dinh Trung Kien guided the K48 students to practice inTruong Son Martyrs' Cemetery in 2006
When 4 dragon boats prepared to stop at the landing of Minh Mang tomb, I took all of my courage to send a message to him: "Teacher, Can I do presentation about Minh Mang tomb? Thank you. Hai Phong Girl. Yes, I just had enough courage to sign such a message, then, my face is so hot, two hands holding notebook and pen also vibrated. If I had signed my name in the message, I would have fallen in to a dead faint.
I held my breath for waiting. My boat arrived first. I stood in front of him, but join in the crowd of K48 and K47. I waited in the silence to see he call me (but I did not know if he knew it's me). I saw that he did not look at me, but he looked at the far port, waiting for something, quite strange. My heart throbbed, there was a sensation what let me know that he had mistakes? I was breathless, wanted to call and ask him directly. But I did not have the courage, as if someone was sticking my mouth and tied my limbs. At that moment, he asked loudly: "Where are you, Hang? What board was you on? Come on" Oh! He confused me with Hang, my roommate, she was also in Hai Phong. That's right, Hang was a hardworking, lovely, enthusiastic, good-looking girl who often participated in the arts of the school. At that time, the she rushed to the crowd with sweat face. Poor my kind friend! She was afraid of teacher Kiên like me. She did not know what to do, walked over to his teacher with worry and her face was pale. I was about to break up, but then again, as if someone was tying my mouth! He squinted affectionately and pleasantly, "Now, you present the tomb of Minh Mang for all to hear." Then he smiled and waited. Hang was standing as if dying there, between the hundreds of eyes pouring, between his look of waiting. She shook her head in fear. He waited and then smiled: "Oh, shivering? Well, then stand in there to calm down." He seemed a bit sad, presented about Minh Mang tomb. Each word he said, each place he mentioned, I could imagine immediately in my head, liked a clear and coherent 3D film. I was angry at my cowardice until the last moment ... Ending the day visiting the Nguyen tombs, I was also talked several time about the tomb of Tu Duc. Although the knowledge there was not outstanding but he did a compliment made me feel more confident: "Look, she is one of the students who is praiseworthy. She always articulate statements and focus on ...". I was surprised and happy as I burst into tears. I still thought that I am just a zero in thousands of students who he taught. He still knew my underground efforts, only that we never talked to each other. Well, that was also a comfort to me. I quickly forgot what happened this morning at Minh Mang tomb.
That evening, after dinner, all of us lined up waiting for the dragon boat to hear Hue on the Perfume River. While waiting for my boat to come in, I saw he walking around the boat landing as if searching for something, and holding the phone pressed and looked up again. I did not pay much attention because I was laughing at my girlfriend (including Hang and a group of friends that I love very much). Suddenly I heard the phone rang, I picked up the reflex to hear, the heart jumped because the screen shows two words: "Dad Kien." I had no idea whether to listen or not, the call was off immediately, and someone pinched my ear. I turned back, he was behind me.
He laughed. He did not say anything, just chuckled and nodded but blamed. Do not ask me that moment how happy I was! As panic, as afraid as thieves caught red-handed, but also happy to breathe a sigh of relief. Honestly, the feeling of being robbed and repented does not dare to confess, just waiting to be discovered liked that! Master was more clever than I thought. I thought that he would not look at the message this morning, but he determined to find the "daughter of Hai Phong" That evening I was really relieved, but not enough to remove the vague fear of my Master. I still did not dare to ask. At the time when taking pictures, I determined to grasp Master's hand to capture. That was a rare courage and extraordinary effort with me.
After that practice in Central Vietnam, I was one of the three students who had 10 points. Even in my dream, I did not dare to dream. To get the 10 points of Mr. Kien is extremely difficult - especially for a normal student just like me. But that dream was real. The respect that I give to him was growing, deepening in me from time to time I did not know. The stories when I told my father - the first teacher, were always the story of Master Kien - the second teacher. Every meal when returning hometown with my parents, I mentioned to him in a exciting way and did not hesitate to compare with my father, asserted that I was really lucky to choose to study at the Faculty of Tourism Studies.
Dad often smiled when he heard me talk excitedly and passionately about Master. For me, both of them are a big part of my life. A person who gave me the love for travel, a person who supported for me to travel. They both gave me unusual emotions when I listened to the story and shared about the land they had passed, the people who they had met and experience. I used to laugh because of surprising and humorous story, had compassion and moved in tear, or fluttered because of his adventure...
My dear friends, two of them gave me a chance to explore my career and passion. Until now, I still see miracles because the more I go, the more I find my choice right. Being a tour guide, an operator, manager, or waitress ... I do not care about anything. My father and teacher stood on both sides to remind, told and share. The biggest lesson what I learned from my father was the energy to overcome my fate. He often told me: "Hard-working beat the destiny." And Master taught me the biggest lesson: "Traveling or doing anything has to has professional ethics," especially, he taught us, "As a guide, it is not only good service but also must teaching visitors protect the resources. In the Phong Nha cave, do not break the stalagmit. Working in Tourism must attach special importance to sustainable tourism, don't make mistakes because of some benefits... How great you are, when you play role of the server, remember that do your duty with your conscience in that position. For tourists, you have to be a devoted server ... ". Those words are deep in my mind, into my heart day by day. It is the light for me to keep my opinion when I'm a Travel Manager.
Now, I am a General Manager of an international travel business. I have achieved my dream after many years. When I look back on the way I went through, I secretly thank him very much. He not only teaches me to do travel successfully, but also teaches me to do travel sustainably, the spirit of the travel manager. Many people who have worked with me wonder why I love tourism so much? Many driver were surprised why a young tour guide like that can make the crowd bend down to pick up rubbish on the floor put into the bucket and then take away by themselves? The guide also made the group who stepped out of the car waving goodbye to the driver in such a loving and polite way. If they knew I had a teacher like that, they would not be surprised!
A hard standing posture, folding his hands behind the butt and slightly tilted his head, looking at the students running after, the image of a gray hair teacher who always go ahead - make his student cannot keep up. The strict but tolerant image of Master, his hard voice will follow me on every path forever. His name is, and will always be mentioned in every business lesson for my generation of employees and colleagues, in all of my sharing stories. Each of my step and my word also have the breath and feelings of two teachers - two great father.
I wish they will rest in peace in the heaven. If you listened to my voice, please always keep track of every step I take and continue to guide me as you did, Master, Daddy! On November 20, I would like to send you thousands of words of compassion. I believe not only myself but also thousands of generations of students will remember you in these memorable days.
The Ass Prof. Dinh Trung Kien - our Teacher, our Father.
Author: Ms Nhu Thi Ngan - Student K48 of Faculty of Tourism Studies